November 03, 2021
Inspiring School Sustainability Projects
Inspiring School Sustainability Projects
Our team has worked with schools for over a decade, and we know the powerful impact Recycling Projects can have on both a school's sustainability results and key learning outcomes.
There are a number of grants available at present including;
Waste Authority WA has opened its WasteSorted School Grants allowing schools access to funding of up to $5,500. – Open 1/02/2022 – 15/03/2022
Junior Landcare has opened its grants to Primary Schools and Early Learning Centre's across Australia, giving them the opportunity to apply for funding of up to $1,000 – Open 9/02/22 – 18/03/2022
Lake Macquarie City Council – Community Environment Grants opening Round 2 in Feb 2022
Local Government Grants – Check with your local council about school grants available
With this in mind, we have provided an overview of a few projects we have been involved in recently, which meet the application criteria for the grants, and link back to the curriculum. Hopefully, this may prove inspiring and assist your school to plan projects and, if applicable, assess funding. If you would prefer to chat with out of our team about your specific school and sustainability goals, simply call our team on 02 49 537 644. We love to talk trash. (Sorry bad dad joke!)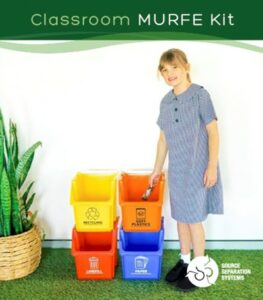 Project 1
The Introduction of Classroom Recycling Stations, introducing five streams to optimise recycling.
Particularly in Primary School, the MURFE Classroom Set and Food Scraps Caddy provide an efficient solution for classroom recycling. The units are manufactured in vibrant colours, consistent with Australian Standard Waste colours and feature effective graphics identifying each stream. The clever space saving design ensures they are easy to incorporate into busy rooms, and the convenient size with handles ensure students can get involved in collecting and recycling their classrooms waste.
Using this system to collect single streams of recoverable with limited contamination optimises recycling and sustainability opportunities.
Organics can be collected for composting. This is particularly effective if composting can occur onsite through a school garden. Composting food waste and adding it to school gardens to ensure new crops thrive, is a great way to demonstrate Closed Loop Recycling. I believe reusing and Closed Loop Recycling is the key to a more sustainable future.
Soft Plastic can be taken to programs such as Redcycle, where the material is recycled into product such as playground seats and bollards. Many local supermarkets are supporting these programs.
Paper can be recycled. There are also several great art projects that can utilise this resource such as Papier-mâché and making Paper Cards. You can even place seeds into the new paper for cards, so they can be planted after use.
Recyclables. Bottles and Cans can be sent off for recycling. Annual Art Programs/ Competition can also be developed using this stream to get students thinking about product life cycles and reuse. I would recommend reviewing the portion of 10c Refundables deposited, which if collected, can provide an addition revenue stream for the school.
Landfill. The resulting Landfill is minimal, which is key given the significant environmental impacts of Landfills. Remaining items include single use Coffee Cups, cloth, and broken stationery and objects. The collection of this stream should be reviewed to minimise costs as part of the program.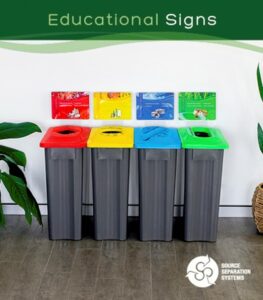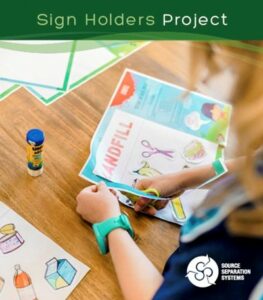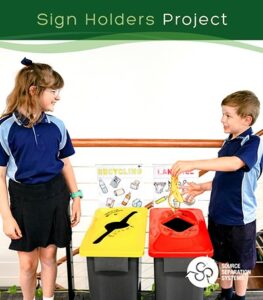 Project 2
Source Separation Stations in Communal Areas
The MultiSort Recycling Units are a popular solution, simply because they are so easy to use. Many schools are placing these stations into their communal spaces including hallways, staffrooms and eating areas.
A convenient 60 Litre size, these units feature a number of best practice features, which ensure your diversion rates are optimised and contamination is minimised. The lids are manufactured in bright colours which are consistent with Australian Standard Waste colours. Each stream has a differentiated aperture around which text and symbols are printed directly onto the lid for durability. The bases are made in Australia of up to 100% Post-Consumer Recycled content, most commonly food packaging items which are collected in Roadside council bins and then processed for recycling.
Commencing this program with a waste audit gets students involved and allows schools to target specific waste streams mirror their requirements, such as Soft Plastics, Glass and 10c Refundable Streams. It is important to consider the collection logistics as part of implementation as you increase your streams.
Education is key to a successful program, particularly when it is relevant to the specific location. Designing Signs for these Sign Holders is a great way to get students engaged and taking ownership for the program. For younger students, our Sign Holder Template (shown below) helps guide the class through recycling designs and resulting signs. Signs can be simply printed (or copied) onto A2 paper and slid between Polycarb sheets.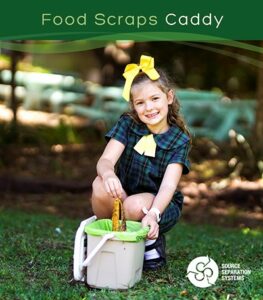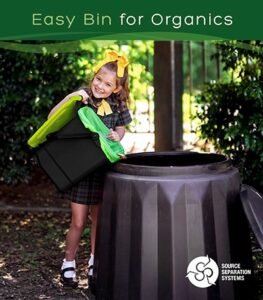 Project 3
Compost Units for food 'recycling' onsite
Composting food is a great working example of Closed Loop Recycling! With a future of limited resources, I believe understanding closed loop recycling and embracing technology to reprocess resources, rather than use virgin materials, is the key to a more sustainable future.
Many schools are introducing gardens with Composters to get kids involved in growing food and composting. With the right systems in place, diverting food scraps from the classroom into composters along with the school's garden waste is a surprisingly easy process, and the resulting compost ensures the school green spaces thrive. Our team can provide Composters, Organics Caddies and Compostable Liners to assist with getting a composting project underway. Complementing this with native beehives and insect friendly gardens is another way to get kids involved in thinking about and building diversified ecosystems.
Project 4
Taking advantage of 10c Refundable Programs
Why not generate revenue by recycling!
Effective infrastructure makes recycling easy, and this oversized Recycling Can is no exception. It attracts attention, and with a restricted aperture, limits contamination. The unit can even be customised with your schools' messages. When a new can is made from recycled waste instead of raw material, the amount of water used during manufacturing drops by approx. 40% , energy use drops by approx. 75% and the air pollution emitted reduces by 90%. Teaching our students to think differently about waste with highly visible programs like this one is critical to a more sustainable future.
Is your School running an innovative sustainability project? We would love to hear about it, and share with others.