May 06, 2022
Solid Versus Vented Caddy – The Great FOGO Debate
This article was originally published in Waste Management Review.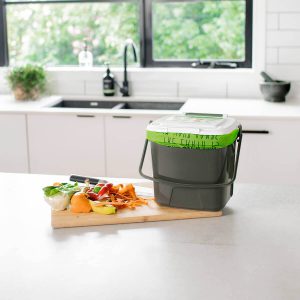 It is estimated that only 49 per cent of organic waste is recycled in Australia, with rates varying from 75 per cent in the Australian Capital Territory to one per cent in the Northern Territory.
A recent report by the Australian Organics Industry found that if the national rate of recycling could be lifted to an average of 80 per cent, an extra 2,102,377 tonnes of greenhouse gas emissions could be saved – equivalent to planting 314,006 trees or taking 486,021 cars off the road each year.
Aiming to improve the nation's organics recycling rate, the Federal Government has committed to providing a FOGO (Food Organics, Garden Organics) service to every household by the end of 2023.
With the government target now in place, there is pressure for councils to provide the right equipment for their residents, which is both cost effective and optimises FOGO adoption and recovery.
Peter Cruwys, Managing Director Source Separation Systems says while the kitchen FOGO caddy may be a seemingly simple unit, a passionate debate is raging about the benefits of a Solid Caddy verses a Vented Caddy.
He says Source Separation Systems is set to shake up the debate, with an innovative modular design Vented Caddy providing the opportunity for hybrid models.
Designed in-house by industry experts, the new Vented Caddy has several unique innovations which Peter says will make it distinct in the Australian market. What sets it apart is the ability to interchange components with the company's Solid Caddy to create a tailor-made solution for customers.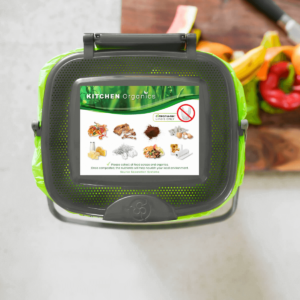 "I'm really excited about the modular nature of our new caddy design," Peter says. "We always work with councils on their unique FOGO educational messages and present this through the full colour in-mould label. However, this new caddy means that customisation is now at the unit design level.
"Councils and waste contractors are already talking to us about what will work best for their individual community, from vented and solid to a hybrid unit. Over the coming months, a large metro Melbourne council will be rolling out a fully recycled caddy with a solid base and vented lid, which includes a customised full colour in-mould label, to about 50,000 of their residents. Their community will benefit from the best aspects of both traditional designs, vented and solid."
Like Source Separation Systems' popular Solid Caddy, the Vented Caddy is manufactured in Australia from up to 100 per cent post-consumer recycled polypropylene content. Most commonly, this recycled content has been sourced from council yellow recycling bins and includes items such as food packaging.
Ellie Lukasik, Source Separation Systems' Production Manager says the design team had the advantage of starting from the existing design of the company's best-in-market Solid Caddy.
"As such, the design and engineering time was really spent focused on ventilation," she says. "The project team studied and obsessed over how to maximise airflow and ventilation without making any sacrifices in the convenience and educational advantages of our solution. Particularly with the base of the caddy, it took several prototypes before we felt we had perfected it!"
This obsession is reflected in the final design. The base features full length aeration slots on all four sides providing about 70 per cent aeration on each face of the Vented Caddy. The lid also incorporates ventilation through holes around the outside perimeter of the educational in-mould label. These holes have been specifically designed to restrict access to traditional vinegar flies.
The bottom of the base also features a significant proportion of vents, recessed into the caddy. As a result, the liner sits off the bench and any moisture tends to be held within the liquid capture well, reducing the risk of leaks. The rib on the caddy base is also uniquely arched.
Ellie says this is important as it allows additional airflow under the caddy, ensuring that the base ventilation is optimised.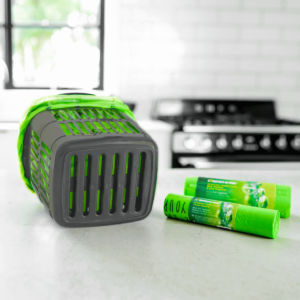 "Without this airflow under the base, the team found the base vents were compromised."
The Vented Caddy has a durable one-piece carrying handle which forms a locking mechanism for the lid when in the forward and upright position. This ensures that the lid is kept closed when not in use, and it secures the Compost-A-Pak® liners.
The vented lid opens to a full 260-degree throwback position, allowing for a completely open unit into which food scraps can be conveniently scraped from a chopping board or plate. The lid incorporates the industry first in-mould label design of the Solid Caddy, ensuring written and pictorial instructions about correct recycling practices, and identified contamination risks, are always available.
Ellie says this has proven particularly effective in diverse communities, in which the effectiveness of conventional written instructions is limited.
A Solid Case: Solid Caddies have been the preferred model for FOGO programs in Australia, and there are some clear advantages.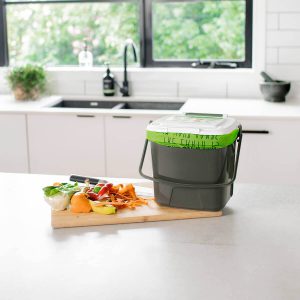 "Solid Caddies have traditionally been an easier, and more cost-effective solution for councils, particularly when they are the early adopters of FOGO in a region," he says. "A Solid Caddy is more readily adopted by residents initially. It can seem illogical to ask a resident to store their food waste in a caddy with holes, particular on their new white stone benchtop!"
He says there is also the consideration of liners. While it is well acknowledged that providing liners does increase community participation in FOGO programs, the increased diversion does come at a cost. Providing an annual supply of Australian Certified Compost-A-Pak® bags to all residents can add significantly to the cost of a FOGO Program.
A Solid Caddy means councils can review the options for liners later. While the team at Source Separation Systems recommend Compost-A-Pak® liners for all residents during the initial rollout phases, they do work with several councils on different models over the lifecycle of the programs.
"Compost-A-Pak® Liners are a really effective way to increase FOGO adoption and optimise diversion," Peter says. "However, providing a Solid Caddy means councils can change their model in the future once there is a good understanding of FOGO and high adoption rates.
"At that point FOGO is a habit for users and so councils can shift to give away, or sell, liners at distribution points such as libraries and service centres, or even move to an online model though our unique FOGO Ordering System. By shifting later to a demand model, rather than delivering door-to-door, costs can be optimised, however this just isn't a possibility with a vented caddy."
Let it Vent: Vented caddies have been the predominant FOGO solution in South Australia for years, and there are some compelling local studies supporting this approach.
In 2010, the South Australian Government and Green Industries SA compared pilot programs offering a Vented Caddy with Compostable liners and a Solid Caddy without liners.
Results showed the Vented Caddy achieving 54.5 per cent food waste diversion compared to 9.3 per cent for the unlined Solid Caddy. About 74 per cent of the Vented Caddy users were also found to be more likely to continue participating in the program, compared to 60 per cent of the unlined Solid Caddy.
Ellie says while the results seem persuasive, it should be noted that the study didn't look at solid caddies with the use of a compostable liner, and so the results were not directly like for like. As liners do significantly improve the convenience of FOGO for users, one would expect the results for the Solid Caddy to improve if liners were provided.
She says there are some clear benefits to increasing ventilation for food waste.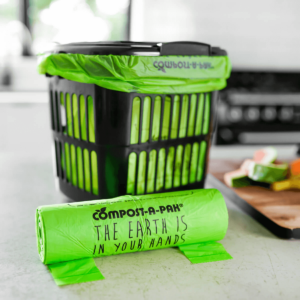 "Food waste is made up of a surprisingly high proportion of water. In fact, common items such as apples can be more than 80 per cent water.  When this food waste can breathe the moisture escapes, both through the Compost-A-Pak Liners and caddy vents, and so smells are noticeably reduced.
"There is also less mould and condensation. In fact, when we tested our final caddy design with full vents and the important air circulation at the base where we curved the base ribs, we found that the food wastes' weight dropped by about 15 per cent through evaporation over the three days."
The Best of Both: There is a place for all caddy designs!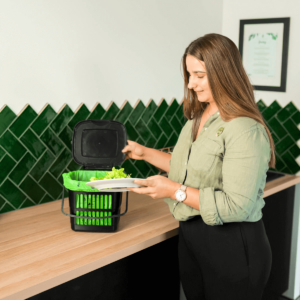 Peter says Australia is such a uniquely diverse country that it would be illogical to think that the same solution for food waste would suit a family living in the lush mountain regions of Tasmania, compared to the sandy shores of the Sunshine Coast. As such, the ability to customise a solution, and ensure it is fit for purpose, is essential.
He says there is a place for all caddy designs.
"I anticipate that in South Australia, the popularity of the Vented Caddy will continue, however it's certainly not necessarily the right solution for those parts of the country with a hotter climate, where food composts much quicker given the heat and humidity, and so fruit flies can be problematic. I think that's where the new hybrid model with a vented lid and solid base will prove popular.
"The key trend we continue to see in the industry is customisation. Commercial and government waste teams are emersed in, and understand their diverse communities like never before, and so they have the confidence to design a solution that works for their unique environment, both in terms of educational messages, colours and now the caddy design.
"I think it's really exciting we can work so closely with clients to help them optimise results, which is where we will be able to realise the full benefits for FOGO in Australia."