May 15, 2013
Waste Solution At Royal Randwick Right On Track…
In what looks set to become one of Australia's most 'high profile' public place recycling schemes, Sydney's world-renowned Royal Randwick Racecourse has taken delivery of a range of purpose-designed and built recycling and waste bins for use throughout the facility. Forming a key component of a major cooperative resource recovery initiative – developed by the Australian Turf Club in conjunction with the Australian Food & Grocery Council's Packaging Stewardship Forum (PSF) – the new bins incorporate a number of innovative design features, all which work together to maximise recycling and minimise the amount of waste being sent to landfill.
Speaking about the new bins, Chris Wilson, Projects Manager with Australian Turf Club Ltd, commented:
"At a popular facility such as this, where we have crowds numbering in the tens of thousands and events that often last for an entire day, waste management is a major consideration – not only in terms of making sure that bins aren't left to overflow and that we provide patrons with a nice clean environment to enjoy, but also in terms of the amount of waste that's generated."
"Put simply, when you have 25,000+ people enjoying a day at the races, it can generate a staggering amount of waste – particularly food and beverage containers," he said.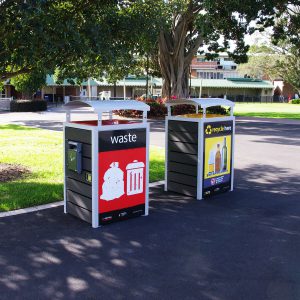 "With that in mind, as part of the total redevelopment of Royal Randwick, we felt it was an appropriate time to look at our waste management strategies and see what could be done to improve our recycling rates and reduce the amount of waste being sent to landfill," Chris Wilson added.
The PSF played a major role in assisting the Australian Turf Club to develop a number of key recycling strategies that address various waste streams. These strategies focus on both the internal and external public areas, as well as Royal Randwick's extensive commercial food and beverage facilities.
Working on behalf of Australia's major beverage manufacturers and their packaging suppliers, the Australian Food and Grocery Council's Packaging Stewardship Forum (PSF) plays a major role in boosting public place recycling throughout Australia. The PSF works together with project partners to ascertain the waste streams being generated and develop programs and strategies to improve recycling rates. The PSF's programs target Australia's major away from home venues, places where large numbers of people gather and consume food and beverages from packaging that can readily be recycled.
"The PSF has played a crucial role in helping us to develop an effective recycling strategy," Chris Wilson said. "Rather than taking a 'one size fits all' approach, they worked closely with us to firstly establish what our current situation was, and then used that information to help us develop a number of customised strategies to meet our specific needs. They were great to work with and we couldn't be happier with the results," he added.
Not surprisingly, this customised approach to establishing venue specific recycling strategies is also evident in the bins that are being utilised across Royal Randwick in both the internal and external areas.
Supplied by  waste diversion specialists Source Separation Systems, the Royal Randwick bins have been specifically designed for the site and deliver the ideal combination of form and function.
"In an environment such as Royal Randwick Racecourse, design and aesthetics are critical," Chris Wilson said. "Royal Randwick has a reputation for excellence and we take a lot of pride in ensuring everything looks good and works well. We want our guests to enjoy a truly world-class experience when they visit."
Needless to say, this focus on delivering a five-star experience adds a significant level of complexity to the waste management challenge – particularly when it comes to selecting appropriate bins.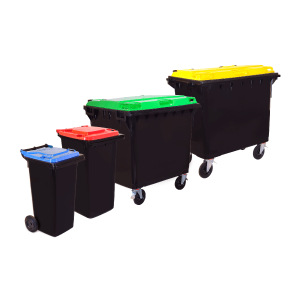 On the one hand, the bins should have a modern and aesthetically pleasing design that blends with the surrounding buildings and gardens, or as is the case with the inside bins, the beautifully appointed ultra-modern grandstand. At the same time, they also need to be noticeable enough that they encourage patrons to use them – especially the recycling bins.
Finally, there is the matter of serviceability. Emptying bins and moving waste around a venue is a difficult task at the best of times. Managing to do it quickly and discretely through a large crowd of racegoers – even more so!
In the Back of House areas, the major considerations are robust build and functional design. In a busy commercial kitchen or service area, staff must be able to identify the correct bin quickly and easily. In addition, the bins need to be designed so that they are easy to use, easy to move, and tough enough to stand up to the rigours of a busy commercial kitchen.
The answer to these challenges came in the form of three custom bin designs from Source Separation Systems.
EXTERNAL PUBLIC PLACE BINS
The external public place recycling and waste bins at Royal Randwick are from Source Separation Systems' National Park range. Available in a choice of over 100 design combinations, the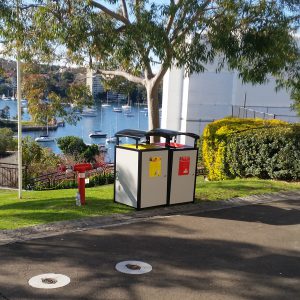 National Park bin range offers the flexibility to suit any decor.
The National Park range has been designed to incorporate the best practice waste diversion features, such as Australian standard colours and modified apertures, in addition to high quality manufacturing which makes Source Separation Systems so successfully.
Featuring two designs (one for recycling and one for general waste) the Royal Randwick bins incorporate a range of features, including:
Attractive high visibility, easily recognisable PSF graphics highlighting the 'standard' red colouring for general waste and yellow for recycling;
Anti-graffiti coating to protect graphics;
Robust powder-coated stainless steel frame for maximum longevity in harsh conditions;
Modern, attractive design that complements the overall aesthetic  of both the new state-of-the-art buildings and manicured gardens;
Top cover to prevent rain getting into the bins while also minimising the chance of birds getting into and pulling waste out of the bins;
Attractive recycled composite wood side panel and access door;
Suitable for use with a standard 240 litre MGB (wheelie bin); and
Easy access full-height side-door for quick, easy and efficient bin change-over.
The National Park bins also feature a wall mounted ashtray secured onto the side of the units. These ashtrays are designed to minimise second hand smoke when butted, and by being placed away from entry areas onto the units, were designed to encourage smokers to move away from the entry areas.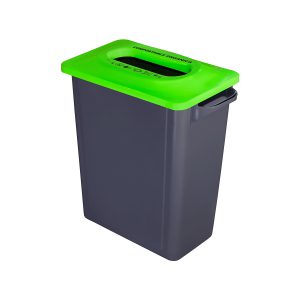 INTERNAL BACK OF HOUSE BINS
The various Back of House (BOH) areas through the new grandstand utilise Source Separation Systems' flexible MultiSort Recycling Units. The MultiSort units feature a significant range of lids, and were selected specifically to maximise convenience and ensure that the relevant recycling streams were available at the source of the waste.
As an example the Organics MultiSort Units are used throughout the Kitchen areas to collect and divert food waste from landfill. The tailored apertures, proven graphics and Australian standard colours which are all mirrored in the larger collection stations, ensure the recycling program is easily to comply with for the largely casual kitchen teams.
As the program continues, these units will be complemented with the new four bay MultiSort Trolleys which minimise manual handling as waste streams are collected and transferred to the larger collection areas.
INTERNAL PUBLIC AREA BINS
The bins located in the indoor public areas such as the entry ways and lift wells in the new grandstand and other buildings at Royal Randwick are an attractive combination waste / recycling bin, also from Source Separation Systems. The stainless steel units house the same MultiSort units used in the kitchens and Back of House areas, and as such, will be able to utilise the same trolley system for emptying the bins.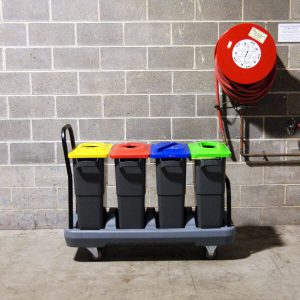 The top stainless panel features consistent tailored apertures, a frame of Australian standard colours and proven graphics for three waste streams, general waste, cans and bottles and paper. The stainless steel side panels are elegantly embossed with Australian Turf Club logo to complement the modern interior.
Speaking about the new bins, Peter Cruwys from Source Separation Systems commented:
"We're very proud to have the Royal Randwick Racecourse as the first major installation of our new National Park bin range."
"Working with both the Australian Turf Club and the PSF enabled us to develop a system that met the very specific needs of Royal Randwick, both in terms signage and aesthetics, and most importantly, encouraging patrons to recycle," Peter Cruwys added.
Importantly, the new bins have already had an opportunity to prove their performance in the field during April Carnival race days – and they passed with flying colours.
Even though Royal Randwick was still effectively 'mid-development', the three April Carnival race days attracted in excess of 50,000 customers – a figure which is even more impressive considering the massive rain storms which that occurred on April 20 and 'kept the crowds right down!' Despite the crowds and the weather, the new bins did extremely well. Chris Wilson explained:
"Over the three days of the April Carnival we managed to divert over 12 tonnes of glass from general waste into recycling stream, which we were all really thrilled about."
"What's more, there was a significant reduction in cross contamination between the waste and recyclables streams," he said.
"A lot of hard work and effort went into developing the system and achieving this result, and even though these figures are the start, we're all very happy with the results," Chris Wilson added.
"We're extremely pleased with the new bins. They're modern and attractive and they fit in well with the surroundings, but most importantly, they are delivering a tangible increase in recycling," he concluded.
To subscribe to MWM  http://www.epcgroup.com/magWWM.htm