November 14, 2013
University of Sunshine Coast – 'Recycling from the Desktop' with MultiSorts
We were really proud to have our versatile MultiSort Waste Separation System and Waste Educational Posters selected by the University of Sunshine Coast for their very successful 'Recycling from the Desktop' Program. Read more about this program in a recent article by Sustainability Matters, or for more information on how the MultiSort System can help your team achieve their achieve waste goals, talk to one of our team.
Paul Camilleri, USC operations and project officer, with one of the recycling stations being introduced around campus, which feature the MultiSort Range and Waste Education Posters. USC recycles from the desktop.
The University of the Sunshine Coast (USC) has begun rolling out its new waste management system – 'recycling from the desktop' – which is expected to reduce the university's waste to landfill by about 75%. The program involves some simple measures, like having smaller desk bins for staff and communal recycling stations in offices, as well as the installation of a large, on-site composter that can process up to a tonne of biodegradable waste each week.
Paul Camilleri, operations and project officer, said USC adopted a system used by Sunshine Coast Council, then adapted it to suit the university environment."We looked at who was already achieving best practice in this area, spoke to the environmental officers at council and watched it through to the end of the cycle to see if what they were doing suited USC," he said. "We then customised it by introducing organic waste recycling as well."
The rollout has so far covered four of 16 buildings on campus and will continue until mid-2014. Camilleri said the results are so far much better than expected.
"Within a week or so in each building, there has been a 75% reduction in general waste," he said. "That means that most of what was once included in our general waste is now going into the other streams of organic, paper or recyclables."
He said the key to the scheme's success was making it easy for staff to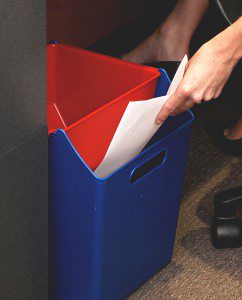 participate.
"The desk bin is the point where waste gets separated," he said.
"It's called recycling from the desktop because it involves managing waste from the source of waste (the desk) and managing as much waste on-site as possible."
He said benefits of the system included cost savings in general waste removal, a reduction in the use of plastic bags as bin liners, better hygiene in not having food scraps in desk bins and greater job satisfaction of cleaners who now view themselves as waste managers. USC Vice-Chancellor Professor Greg Hill said the new waste management program is part of the university's strategic goal of developing for a sustainable future.
"This system will reduce the costs – both financial and environmental – of waste sent to landfill, reduce the amount of time spent on waste removal and improve our recycling efforts," he said.
Since the rollout began in July, the university has received calls from numerous organisations seeking demonstrations, particularly of its OSCA (on-site composting apparatus) composter that was installed by Palmwoods-based company Worms DownUnder. Similar Articles are available at Sustainability Matters.