September 22, 2020
The Post-Consumer Loop: Source Separation Systems
This article was originally published in Waste Management Review
A recent investment from Source Separation Systems is set to boost onshore manufacturing and recycled content end-markets. Founding Director Peter Cruwys explains. 
In the wake of COVID-19, associated supply chain disruptions and economic downturn, a renewed focus on the importance of onshore manufacturing has emerged. For companies dependent on products coming in from overseas, the halt of imports and exports sent a domino of delays through various industries, further highlighting the benefits of onshore solutions. This comes amidst the backdrop of a rapidly changing waste sector, with the first round of export bans set to come into effect 1 January 2021. While the bans are largely a reaction to China's National Sword policy, they too foreground the need to invest in domestic manufacturing and recycled content end-markets.
Sitting at the intersection of these two key national issues is waste management solutions provider Source Separation Systems, which in late June, announced a move to Australian based manufacturing.
With an inv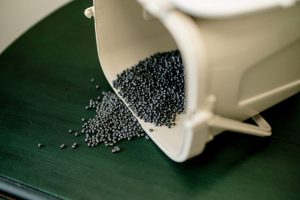 estment of over $250,000 in industrial design and manufacturing capability, Source Separation Systems has equipped a Melbourne manufacturing plant with the capability to manufacture the company's MultiSort Office Bin Bases and organic Kitchen Caddies. Repurposing manufacturing equipment previously used in the Australian car industry, the initiative is also supporting up to 30 Australian jobs in both Newcastle and Melbourne, which is expected to increase as production continues to ramp up, and new products are integrated.
"We all know how much of an impact the cessation of car manufacturing had on the Australian economy and job market," Peter Cruwys, Source Separation Systems Founding Director, says. "It's a privilege for us to be able to play our part and ensure that these skills are maintained and manufacturing continues to grow in Australia."
In addition to onshoring it's manufacturing process, Source Separation Systems has committed to using 100 per cent post-consumer recycled content to produce its MultiSort bases.  According to Cruwys, one of the most critical challenges for Australia's recycling industry is ensuring people are confident that the waste they carefully separate will be recycled.
"It's a really powerful message to be able to tell users that their MultiSort bases are made from some of the recycling items collected," he says. "It is such a powerful motivator to recycle. In the future, we hope to be able to localise programs, so that the bins are made of recycled content collected as part of each specific business program."
CENTRALISED SEPARATION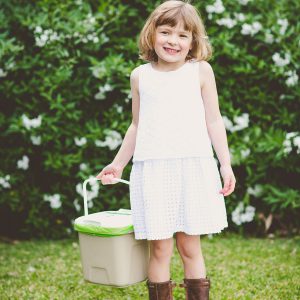 Source Separation Systems, an Australian family owned business, was founded by Cruwys over a decade ago. After university, Cruwys spent several years working overseas as a national sales manager for Europe's largest coffee and vending machine manufacture. He explains that on his return, he felt a renewed appreciation for "our beautiful country." Shaped by this experience, Cruwys became passionate about ensuring Australians have access to the same world class products he had experienced overseas. Products which make it easier for everyone to live more sustainably, he says.
Source Separation Systems has grown significantly ever since, as an increasing number of Australian communities and businesses look to a more sustainable approach to waste diversion in their industries. The company began with food waste bins and Australian Certified Compost-A-Pak bags, and now offers a wide range of products for councils, hospitals, schools and domestic dwellings. They also operate community asset auditing, FOGO rollout and distribution programs and retrofit recycling solutions.
While Source Separation Systems' food waste bins and compostable bags are still a central tenant of its operations, the company is perhaps now best known for the aforementioned MultiSort Recycling system.
The system is designed for offices to optimise recycling by providing centralised site-specific recycling streams which, with the right processing facilities, can be used to eliminate waste to landfill. As a first of its kind in the Australian market, Cruwys recognised that while most offices at the time were using desk side bins, the key to effective resource recovery lies in separation at the point of generation. As such, each stream is coloured in Australian standard colours and features differentiated apertures around which educational text and graphic symbols are printed. This information is printed directly onto the lid for durability. These features ensure people instantly recognise each stream without training, and also allows the lids to be wiped clean or disinfected without the risk of the dreaded sticker edges peeling.
"When we started 13 years ago everything was imported. We developed partnerships with the largest manufactures of this style of equipment in the UK and North America, and from there began building our own product offering," Cruwys says.
"We recognised that with the MultiSort bins, while we had the base units available to us internationally, no one had the right coloured lids. We then began moulding and manufacturing our own lids to suite the UK manufacture's bases."
From there, the process evolved, with the MultiSort bases now manufactured in Melbourne. The bases are manufactured from either polypropylene or low-density polypropylene, Cruwys explains, which is collected as common recycling items such as milk containers, food packaging and plastic bags, often in the very bins being manufactured. The material is primarily sourced from Melbourne's post-consumer plastic waste, which comes through yellow kerbside bins.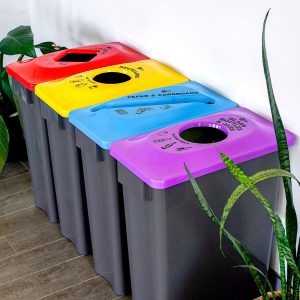 "We supply products to help people source separate their waste, so it's important that we can take some of that waste and return it back into the product," Cruwys says.
"It's a great feeling to be able to sit with Australia's largest commercial office owners and say these bins are being made from the materials disposed of in them.
"Most large corporations have significant sustainability strategies these days, and this is a small part that we can play in those strategies."
The bins have also been re-modelled based on customer feedback, Cruwys says. He explains that Source Separation Systems have removed the external handles and built them internally into the bin.
"It's a sleeker solution and more artistic design than the traditional MultiSort," he says.
POST-CONSUMER DEFENCE
Cruwys explains that Source Separation Systems' investment in onshore manufacturing was a conscious decision based on the team's belief in the importance of reutilising post-consumer waste.
"If we were thinking purely in economic terms, we would never have done it. We've spent a quarter of a million dollars on fulfilment, infrastructure and set-up to make it work in Australia," he says. "We could have continued importing the bins, however, we've been preaching about the importance of recycled content end-markets for 13 years, so it was something that needed to happen."
It would seem that the investment was a sound one, with the Department of Defence (DOD) recently committing to a rollout of MultiSort bins across all its sites and facilities.
"The DOD were looking at an optimisation project with its commercial contractor Veolia and trialled a number of solutions," Cruwys says. "One of those solutions was our sixty-litre MultiSort bins, which they trialled at a number of bases last year. Ultimately this proved to be the most successful option."
One of the key drivers for the DOD was Source Separation Systems' commitment to making the product out of Australian recycled content.
"It was a great confidence boost for us in terms of knowing that we were making the right decision to invest money in this project," Cruwys says. "For a large government organisation like the DOD to utilised 100 per cent post-consumer recycled content, it goes a long way towards helping them achieve their waste reduction and sustainability goals"
According to Paul Anderson from the DOD, Veolia has been providing waste and recycling solutions to the department for over six years.   
"These waste and recycling solutions are delivered through a shared commitment to improve waste disposal options, product stewardship, build partnerships that are innovative, and enhance sustainability outcomes," he says. "The DOD, through their partnership with Veolia, is committed to exploring opportunities to minimise waste and incorporate recycled content into their supply chains."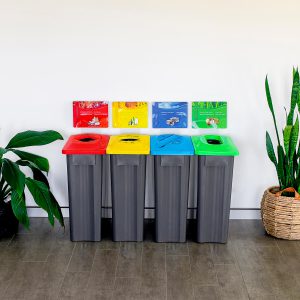 With a shared commitment to maximising resource recovery, Veolia and the DOD commenced the introduction of an enhanced recycling program in 2018 that uses waste collection containers manufactured by Source Separation Systems.
"The recycling program not only enhances Defence's landfill diversion performance, this investment in local manufacturing has supported Source Separation Systems to develop a product line that contains 100 per cent post-consumer recycled content," Anderson says. "This outcome increases the uptake of recycled material across supply chains and embodies our joint commitment to promoting a circular economy in the waste and recycling industry"
The DOD's MultiSort commitment falls in line with recent industry calls for wider government procurement of recycled content products. When the Federal Government announced its $190 million Recycling Modernisation Fund in July, for example, Australian Council of Recycling CEO Pete Shmigel said the investment would help accelerate domestic recycling industry sustainability.
He added, however, that the next step for governments, corporations and the community was to 'buy recycled.'
"Lighthouse projects using recycled content materials are needed so that the community can see the positive results of their on-going participation," Shmigel said.
Cruwys expresses similar sentiments, highlighting that while government interventions such as the Recycling Modernisation Fund and National Packaging Targets aim to increase recycled content product usage, the challenge of ensuring the infrastructure and appetite is available in Australia remains. Australia's long-term sustainability success therefore lies in industry innovation, backed-up by willing and resource recovery minded businesses and government agencies.
"This MultiSort program further proves the validity of Australian manufacturing with post-consumer recycling and is a step towards the circular economy needed to boost Australian sustainability," Cruwys says. "With today's consumers more environmentally conscious, Source Separation Systems hopes to see fellow Australian businesses and consumers embracing their Australian 100 per cent recycled product."