May 13, 2019
Sustainable Schools: A Teacher's Perspective
Like so many Australian children, our young primary school aged kids have some an amazingly caring, creative and dedicated teachers to help shape their little minds. This year, one of their teachers also shares our passion for sustainability, and kindly offered to share some of her insights. Read below to take a peek inside her amazing sustainable classroom.
Like many schools, when I first started teaching here, there had been very little focus on waste management. There was either a landfill or general recycling bin in both the classroom and playground settings however often these were placed on their own, and so both were highly contaminated. As a result, almost all our waste was going into landfill. We were heavily contributing to the detrimental air emissions and pollutants destroying our environment, and more importantly, the kids saw our lack of action. It's their future, and I believe it's critical that we teach them to prioritise sustainability and to think carefully about how we use our limited resources. It will be their generation who need to solve many of our environmental challenges.
RECOVERABLES IN THE CLASSROOM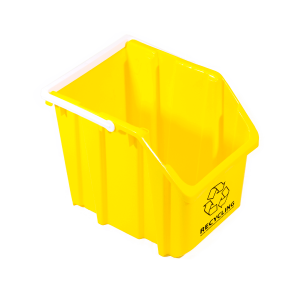 We never use the term 'waste' in our room, but instead talk about 'recoverables'. The 'recoverables' we have in my classroom are mainly made up of paper scraps. We are always focused on reuse, however after that, the paper is a valuable resource to be separated and recycled. After working with the team at Source Separation Systems, I have updated my recycling to the MURFE system, which I love. This is a separation system that is easy to use for students, and importantly really compact. It's available in landfill, recycling and paper recycling streams in bright fun colours, so my students adapted easily to the classroom change, as different streams are easily recognisable.
I always like to involve the students in our sustainability programs and they are always wanting to help. Having small, compact bucket-like bins allows my keen helpers to take the bin and dispose of the contents in its appropriate bigger bin. This give my students a great sense of responsibility in our classroom.
As for our food waste in the classroom, crunch n' sip break creates mountains of scraps daily. We started disposing our classroom food scraps in the Organics Caddy. Our Organics Caddy sits at the front of the class with our MURFE bins. When the classroom Organics Caddy is full, my scheduled helpers take the bin down to the school compost bin.
Starting a school compost bin at our school allowed all students to be involved in environmental sustainability. We have three of the Composter Cube composting systems, located at the back of our infant's playground, nearby our school garden. Food scraps from students and teachers are put in the compost bins and by the end of the term we harvest nutrient rich compost, using it to feed our worm farms, vegie gardens and beautiful community flower garden. Whilst we had to organise a working bee to get our composters and garden established, it is surprising simple to manage once established.
I have, and many of my colleagues have, integrated these activities into the Geography syllabus. It really does create valuable hands on learning for our students. As such, students are more engaged, interested and have a sense of responsibility, learning valuable citizenship skills for the future. Students develop an understanding of the cycle of natural produce, from food scraps, to compost, to fertilizer for fruit and vegies, which are then eaten- the cycle goes on!
These programs are not only fantastic for the school environment but are valuable for students worldly understanding in sustainability and citizenship.
RECOVERABLES IN THE PLAYGROUND
Sustainability in the playground can be a little overwhelming, however with a few change champions helping to drive results, it's very achievable. In our school playground, the majority of volume is made up of food scraps and soft plastic wrapping. Our school has a dedicated undercover eating space so we have introduced the MultiSort waste system to expand our Recycling streams. We situate a few of the MultiSort units, being Organics and Soft Plastics in the supervised eating space next to the existing Recycling Wheelie bins.
Having Organics (food scrap) bin options for the playground area allows the food scraps from lunch and recess to also go into the school composting Wheelie units, to further develop our nutrient rich compost. We are lucky to have a local council facility which processed food waste, so if our composters are full, we can send the food scraps for commercial composting.
Whilst we do encourage kids to come to school with 'nude food' in part through our 'Plastic Free Wednesday', we have also had to accept that a large proportion of our bin contents is soft plastics. As such our school has also opted for a Soft Plastics bin solution. The students put their cling-wrap and plastic packets in there instead of landfill. As our school is determined to eliminate all waste, we participate in 'Redcycle', a program that recycles soft plastics if collected separately. We even have a few playground seats which are made of recycled content from soft plastic recycling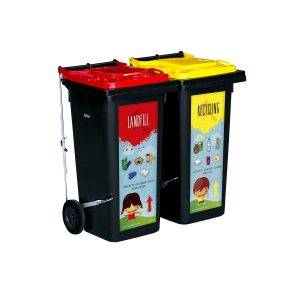 programs.
Outside our undercover eating zones, we do still have the Wheelie Bins in the Playgrounds, however these are always in pairs, colour coded and clearly labelled.
RECOVERABLES IN THE OFFICE AND STAFFROOM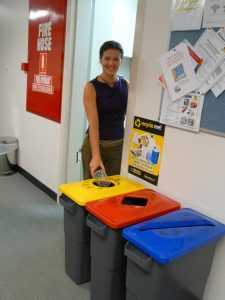 We also use the MultiSort units in our staff spaces to maximise waste diversion. We pair the Organics, Soft Plastics and Paper recoverable streams together in our staff offices. Through education and whole school involvement, our staff has been fabulous in sustainable actions, majority attempting to use zero plastic with their lunches.
Our entire school has got behind this program, and our approach has significantly decreased the amount of waste at our school, getting us closer to our new aspirational target of zero landfill waste!
We have had to work hard to educate students and families, however through education, the whole school community developed an understanding and greater respect for sustainable actions. We track our remaining Landfill volumes, which is a simple way to measure success, and whenever our school achieves a goal there is of course a prize! The last prize was a whole school end of term FUNDAY!
As I discussed earlier, learning about sustainability in the classroom, then having real action in the playground, has significantly enhanced student's depth of understanding and engagement.
These simple strategies are not only fabulous for the environment, they've enhanced our school community and heightened the outcomes and involvement of our students. I thoroughly encourage teachers to step on-board the sustainability train for the benefit of the environment and students.