May 03, 2022
Source Separation Systems' New Beach Bin is Uniquely Engineered for the Aussie Coastline
Hot sand between your toes, wild salty hair, sunburnt noses…  the Aussie Beach can be a uniquely fun, but hostile, environment. That's why, between way too many trips to the beach for "site assessments", the team at Source Separation Systems have leveraged their unique expertise in waste diversion, to design a new public place bin designed specifically for the Australian coastline.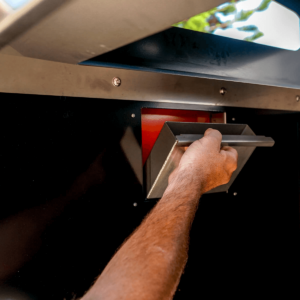 The Beach Bin builds upon the popular National Park Range, with several new features. Whilst still manufactured in their factory in Newcastle NSW by Glen and his team, this unit is built from aluminium, making it a robust solution for coastal environments. Housing standard 240 Litre Wheelie Bins, the wall panels of the enclosure are fixed to the ground, with the longer panels bolted and reinforced with silicone during installation. This feature minimises litter in coastal areas which are typically associated with high winds, as smaller waste items are unable to escape from the base. It also reduces the build-up of sand from within the unit, ensuring the internal bins remain easily accessible. The limited air flow created by the sealed base also minimises the risk of fire, by reducing the amount of oxygen feeding any potential flames from the base.
The Beach Bin is available in a standard Landfill and Recycling design, with other streams including Organics available on order. The Landfill unit is available with an optional ashtray, which allows butts to be extinguished and then deposited into a separate compartment within the frame. Butts are then conveniently transferred to the Landfill MGB on collection.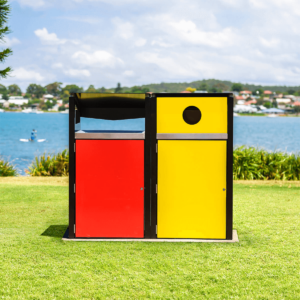 Source Separation Systems are well-known for their high-quality outdoor units, which are uniquely engineered and manufactured for durability. The Beach Bin is no different! The panels are constructed with a dual sheet design for strength, with the powder-coated outer panel individually replaceable if damage does occur, which adds to the longevity of the solution. These interchangeable panels can also be vinyl wrapped, transforming the bins into information hubs for the promotion of community events and messages.
An effective and durable solution, the Beach Bin is sure to be another popular option in the Source Separation Systems' innovative range of waste diversion products. For more information contact the team on 02 49 537 644, preferably during business hours, just in case they are enjoying a coastal swim!