July 29, 2015
New Bins With A Heritage Touch
A new wave of street scape waste management is set to sweep the shire with public place recycling bins being installed in the three main town centres of Dorrigo, Bellingen and Urunga in the coming weeks.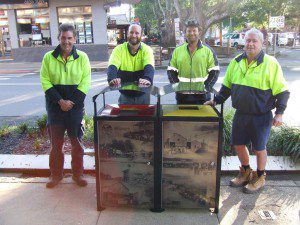 The new recycling units are adorned with heritage images of the three towns and surrounds highlighting the region's history and early industry of the towns.
Selection of the bins and the image content were undertaken by Council's Sustainable Environment & Waste team with the images being sourced from the Bellingen Valley Historical Society.
Bellingen Shire Mayor, Cr Mark Troy is confident that the community will seize the opportunity to play their part in capturing the large proportion of the recyclable materials generated by the neighbouring businesses that would previously have been mixed with the general waste and possibly have gone to landfill.
"Our residents already have a great reputation for being engaged with pressing environmental issues and this is another opportunity for us to show leadership through improved waste management practices", the Mayor said.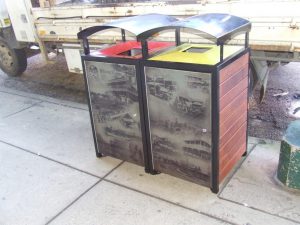 The installation of these bins is a significant step for the Shire reflecting the community's focus on sustainability and responsible environmental management. This is the first time in the region's history where recycling has been made available to the public in the main street.
This initiative is aimed at providing services and infrastructure in line with the Shire's position as a leader in the state for waste diversion away from landfill.
Council secured funding for the new bins from the NSW Environmental Protection Authority grant under the Better Waste and Recycling funding scheme.
Originally published in The Bellingen Shire Courier-Sun, July 3 2015.
If you are interested in Buliding Your Own Custom Bin, visit our website or contact our team.