January 04, 2021
Manufacturing with Post-Consumer Recycled Content in Australia
It's been over twelve months since we started to manufacture using recyclables collected in Australian council recycling bins, and we couldn't be more excited, both about the results, and the enthusiasm from our customers. It just shows how promising the circular economy in Australia is.
Although as a result her schedule is remarkably busy, we did manage to get five minutes with Ellie Lukasik, our Production Manager to discuss the most commonly asked questions, and the evident success of this program.
What do you mean by Post-Consumer Recycled Content? What is the actual source of the material being recycled?
Post-Consumer Recycled Content is material created by consumers after a product has reached the end of it's use. In our case, we are using general recyclables such as milk bottles and food packaging material. It's more common for products to be made of a proportion of recycled content which is Post-industrial. Post-Industrial is usually just offcuts from a production line and therefore is easier to use as it's a single origin product.
We are passionate about manufacturing from Post-Consumer as we are taking everyday items often destined for Landfill, and instead recycling these products in Australia. The environmental benefits of establishing this type of circular economy in Australia and using recycled content are significant, with less water and energy used and less pollution generated, when compared to mining and manufacturing virgin material.
In terms of the specific source of our recyclables, surprisingly it can be a little challenging to source recycled content as we like to establish a clear chain of ownership. The source of our recyclables do change, however our recent current production runs are actually being manufactured from items deposited in Council Roadside Recycling programs in metropolitan Melbourne, close to our factory. We are also in early stage discussions with a few large commercial businesses, looking to collect their own waste to be used in the production of specific company-based recycling programs. It's something I'm excited about as it is a very powerful message to be able to show your team that their recyclables are being used in the manufacture of products onsite.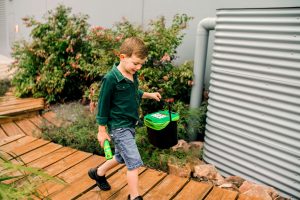 What is the quality like when you use recycled content? Are there any disadvantages when compared to virgin material?
This was something that I was a little nervous about, as people often perceive recycled content as being inferior. After manufacturing thousands of units, both Kitchen Caddies and MultiSort Bins in our Melbourne facility over the last year, I am excited to say the quality is outstanding! Even with the complexities of our in-mould labels in the caddy designs, the material has performed really well. I always think one of the best measures of success is how our units stand up in schools, childcare centres and commercial kitchens, which are notoriously tough on bins, and we have not had a single return after installation!
One of the challenges with Post-Consumer Recycled content however is colour. Whilst with virgin material it is easy to achieve a crisp white, with Post-Consumer Recycled content, because it is by nature mixed, there are more variations in the colours for each production run, and the light colours start at a beige. Saying that, I have found customers are really happy to work within this colour range if they know they are supporting Australia's circular economy. In our industry, people are acutely aware of the need to focus on the Post-Consumer recycled content so we can divert the thousands of recyclables we all throw out each year from landfill.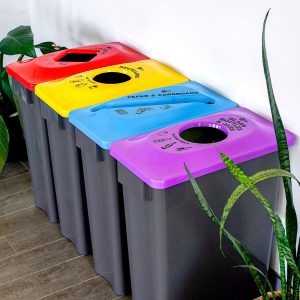 It has been over a year since the shift to manufacturing with Post-Consumer Recycled Content. Is the program a success?
Absolutely, it's been a great success and a program I'm really proud to have been involved in. We are continuing to look to expand the manufacturing we do in Australia, and of course to increase the Post Consumer recycled content we can use. Hopefully we will also see other companies following our lead and investing to change their manufacturing processes as well. With the environmental benefits so significant, and the quantity just as strong, being part of Australia's circular economy it's a really compelling proposition.
To find our more about this program, or talk to Ellie directly about projects, you can call our team on 02 49 537 644