Fujitsu's Blaise Porter tells Waste Management Review about how the company's ICT Sustainability Benchmark is helping reduce waste across the commercial and industrial sector.
The definition of e-waste varies across the states and territories.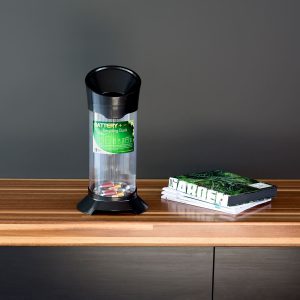 According to the NSW Office of Environment & Heritage e-waste disposal page, e-waste is "any item with a plug or battery".
The South Australian Environment Protection Authority's e-waste environmental info page, which banned e-waste to landfill in 2013, says it comprises electrical or electronic equipment waste, providing a list of the various types.
The Victorian Government, which has announced a ban on e-waste to landfill, effective July 2019, says that in its draft regulatory tools for its ban, it proposes that e-waste be defined as "any end-of-life equipment which is dependent on electric currents or electromagnetic fields in order to work properly".
The government notes e-waste will likely be simply described to the public as "any device with a power cord or battery that is no longer wanted or useful", which will be further tested by an education and awareness campaign.
When it comes to recovering many of these materials, the federal government's National Television and Computer Recycling Scheme (NTCRS) provides access to industry-funded collection and recycling services. But materials such as mobiles, photovoltaic solar panels and batteries still fall outside of the NTCRS and the Product Stewardship Act, which includes the NTCRS, currently undergoing a review.
A March 2018 review of the Act indicates the department is developing a Product Impact Management Strategy to assist a shared approach to product stewardship across the states and territories. This review asks: has the interaction of the Act with the NTCRS, state and territory local government legislation, policy and programs been effective?
As we wait until mid-2018 for these recommendations to be made to the minister, Blaise Porter, Sustainability Manager, Oceania, Fujitsu, believes that business maturity in e-waste recycling has not grown since the NTCRS was introduced in 2011.
"From a sustainability benchmark point of view looking at business maturity, Australia-wide there hasn't been much movement in the last couple of years in businesses' maturity in dealing with e-waste," Blaise says.
SETTING A BENCHMARK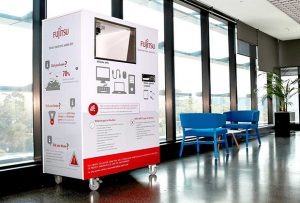 Fujitsu, a major provider of ICT services, has a long term commitment to sustainability, and since 2009 has implemented its own zero e-waste to landfill policy. The company designs its own products, including tablets, laptops and servers, with end of life and recyclability in mind.
To help accelerate this knowledge and implement the right policies, Fujitsu developed its ICT Sustainability Benchmark in 2011. Blaise explains that Fujitsu offers the benchmark as a service to help businesses understand their overall ICT sustainability practice.
"We ask businesses what they're doing in their overall environment compared to industry best practice against our database where we've conducted the benchmark before," Blaise says.
"Fujitsu provides a benchmark score of how they stack up against that cohort and what they can do to improve their practice. For example, from a lifecycle perspective we would look at stringent controls for e-waste, or stricter purchasing standards so that you're procuring energy efficient information technology in the first place."
Blaise says the database now includes 3000 organisations across the world and is the largest of its kind.
The ICT Sustainability Benchmark lists categories such as enablement, metrics, lifecycle, end user and enterprise. Enablement includes concepts such as readiness for sustainability policies and the users of technology across the organisation, as well as business process management. Metrics focus specifically on what is being managed and energy consumption and cost. Lifecycle focuses on the procurement of new ICT assets, including standards and ratings, the use of the equipment over its lifecycle and e-waste disposal. End user covers the personal devices a business is using, the business' policies and controls in this area and its use of consumables such as paper and print toner. Enterprise is focused on evaluating business data centres and the broader infrastructure, including networks, software and architecture.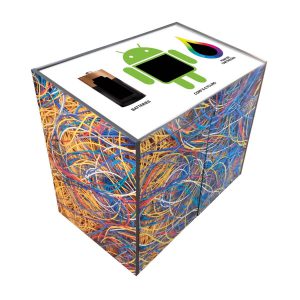 Crown Melbourne, Victoria's largest single site private sector employer, is one major company to apply the benchmark in 2016. Based on quick surveys and short interviews, the benchmark measured itself against Fujitsu's database, formulating a five-year plan to reduce energy consumption by 10 per cent, power management controls tangible key performance indicators to measure environmental progress and sustainability reports.
International airline Qantas also used the benchmark to implement Fujitsu's e-waste service in 2016. Since working with Fujitsu, more than 12,000 assets have been recycled and 120,000 materials diverted from landfill. Qantas's data security concerns have also been allayed knowing that the company is able to provide a secure environment before disposing of materials. Employees have also been encouraged to bring their own devices in to be recycled, removing 1.5 tonnes in a single day.
BOOSTING THE PROFILE
To raise awareness of e-waste, Fujitsu collaborated with recycling infrastructure provider Source Separation Systems and recycler Sims Recycling Solutions. The bin housings, developed by Source Separation Systems, feature an Internet of Things sensor to monitor fills levels and alert customers when their bin needs to be emptied. Sims partnered with Fujitsu to recycle its e-waste. The smart bins contain a 240-litre standard wheelie bin inside and include one small slot for mobile phones and tablets and a larger one for laptops and screens.
Fujitsu uses a courier when pickup and changeover is required, which sends it to Sims for processing.
The bins are being used by large multinationals as part of Fujitsu's overall ICT service.
"When we looked at this e-waste solution, what we found overall was that there was a lot of confusion about what constitutes e-waste. People generally are dealing with waste that might contain their data, such as phones and laptops – so that security risk is front of mind," Blaise says.
"But then there's this whole other category of e-waste such as monitors and keyboards that people just don't really think about as e-waste, and that is quite likely to just wind up in the bin."
She says the smart e-waste bin was designed to boost the visibility of the issue.
"We designed it so you can fit it out in your office and it's a way to dispose of e-waste, whether it be corporate e-waste or materials brought from home and offer a centralised collection point to get people talking about the issue."
Several pilot projects were trialled in 2016 and 2017 before choosing the right size.
"We originally had one that was about half the size, but you had to physically lift up bins full of e-waste which then got quite heavy and there was an occupational health and safety issue," Blaise says.
"There was a fair bit of trial and error with our partners to come up with the actual housing we knew would work."
In addition to fill levels, Fujitsu's smart bins sensors also monitor geo-location, temperature and tilt angle. The wireless sensors weigh less than 250 grams and have a battery life of 10 years. The shell is non-corrosive and the bins do not require maintenance.
Fujitsu has also taken the technology integration a step further and used its own Run My Process automation tool to fully automate the bin collections. The automation tool retrieves a job number from Sims, books the courier collection, and advises the customer of the booked pickup time.
Fujitsu has plans to double the number of bins deployed in the next year with its existing customer base.
Ultimately, the bins are part of the company's multipronged approach to managing e-waste. To ensure all security issues are eliminated, customers receive a certificate informing them their data has been wiped and that the material was disposed of appropriately.
"What we've found is the bins are great at starting a conversation and we can find out where someone else in the business has a cupboard or entire room full of e-waste that they've never been sure how to deal with," Blaise says.
"So they are hoarding and one of those reasons is data security. When you have the option to recycle that is visible front and centre, it sparks a conversation and gets people thinking.
"From there, we can have a conversation with them about how you select an e-waste provider and the due diligence that they should be looking for."
Peter Cruwys, of Source Separation Systems, says that the design stage required stepping through all the stages of the project to ensure it was easy to install and managed by staff on site.
"We initially supplied a smaller bin on site before custom building it to suit Fujitsu and Sims' requirements," Peter explains.
"The most important driver comes from Fujitsu and their corporate social responsibility. The team is really driving this change and making a difference in the community."