November 08, 2017
Litter… It's Getting Personal!
Research suggests a person's emotional attachment to a location may influence their propensity to litter. It's a theory being tested with a new wave of National Park Bins, leveraging local images and local messages to emotionally connect with the community.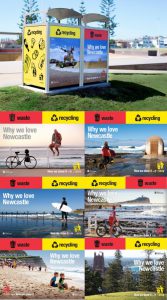 Litter is a costly challenge, with larger states such as NSW spending an estimated $300 million annually¹. This expenditure is largely focused on litter management rather than prevention, (approx. 95% of costs), however even this distinction is a difficult to make, as littered places attract litter, and in fact are less likely to be used and enjoyed by the community. ²
It's little wonder so many people are passionate about litter, particularly within iconic community spaces. This passion is spreading! Many areas are reporting a reduction in litter, linked in part to the growing community awareness of the environmental risks, and you don't have to look far to see this trend, from the increasingly common 'collected litter' posts on social media, to the amazing individuals, like my neighbours, who so often walk along our gorgeous lake to collect waste.
It's this community spirit that innovative councils such as Newcastle City Council and Hornsby Shire Council are tapping into, with a new wave of National Park Bins designed specifically with local images and messages to connect people to the community spaces they are in. Such an approach to litter prevention is reinforced by behavioural studies, which conclude that littering behaviour is influenced, not only by the more commonly known determinant such as the amount of existing litter, convenient placements of bins, the 'obtrusiveness' of bins (Eg colour or startling design), polite signs asking people not to litter, and the design of the space to minimise out of view areas. There is also strong agreement in the litter prevention research that "The more community involvement and social engagement, the more effective the strategy.'³
The freedom to customise the National Recycling Park Range has allowed Newcastle City Council and Hornsby Shire Council to integrate a number of these findings into both their urban design and bin infrastructure, with the aim to minimise litter and so enhance the communities enjoyment and use of iconic community areas.

Newcastle has developed a series of dual stream stations, introducing recycling to the foreshore and beach areas. Each recycling station in the series is completely unique, with local photos from the area in which they are placed. Connected via a popular walk, all the bins in the series do share a common campaign message linked to these iconic images- "Why we love Newcastle",  followed by the footer 'How we show it", pointing to the Do The Right Thing image. As a passionate Novocastrian, I'm a little bit bias, however not only do these bins look great, (Or 'obtrusive' using the research terminology), they certainly make me feel engaged to this campaign, through my connection to the images of loved community spaces, and locals doing the activities that makes us all love Newcastle.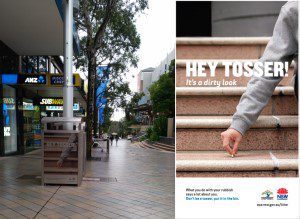 Hornsby Shire Council in a similar way have invested in bins which can certainly be described as 'colourful and startling', and in a similar way they have leveraging local images with the aim of connecting to the local community. The council had professional photographs taken in the refurbished mall area of individuals littering. These images were overlayed with 'Hey Tosser, It's a dirty look' followed by a message about litter 'getting noticed', which aims to reinforce that visibility of litter, which is proven to influence behaviours.
Both these programs are obviously investment in litter management, however their thoughtful design ensures they play a key role in litter prevention.
If you would like to know more, check out the portfolio of designs on our website and Build Your Own Bin.
Resources:
Price Waterhouse Coopers: Packaging Cost Benefit Analysis report p. 6-7.
Clean Up Australian cigarette brochure April 2009 Clean Up Australia.
Lessons from the litter-ature, A review of New South Wales and overseas litter research. 2013. NSW Government. Office of Environment & Heritage.  *Studies reviews by Huffman et al (1995), Curnow et al. (1997) and BIEC (1999).