November 27, 2013
Give Food Scraps a Future in Randwick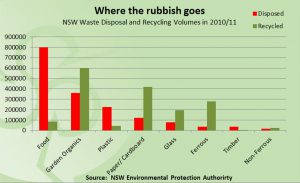 We are really excited to be involved in the Randwick Council Kitchen food scraps trial.
6000 apartments have been provided with Kitchen Caddys and liners and are being asked to separate their food scraps. Once collected, the organic waste sent to commercial composting organisations, such as EarthPower in Camellia, and turned in into bio gas and garden compost. The council has chosen  Source Separation System's convenient 7 litre Kitchen Caddy's and have chosen to improve the  convenient of collection for the residents by also providing our Compost-A-Pak liners. The Compost-A-Pak biodegradable bags are made of third-grade corn starch and are Australian Certified as compostable, so customers can be confident there is no harmful residue as they breakdown.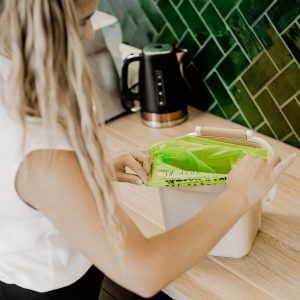 When reviewing NSW Waste Disposal and Recycling Volumes, it's not surprising that food waste is such a huge focus for NSW local councils. The NSW Environment Protection Authority 2010/11 figures show 800,000 tonnes of food was disposed of compared to only 85,000 which was recycled. This food recycling rate at less than 10% is alarming, particularly when you consider that such food waste, when compressing in Landfill without oxygen to rot, produces methane, a greenhouse gas 25 times more potent than the carbon pollution from car exhausts.
SO HOW CAN WE TACKLE THIS ISSUE?
"We are trying to reduce the amounts going to landfill. We try to remind people to go to basics, to get away from that mentality that things go into the bin and are taken away in a truck – you don't know where….  The number of [landfill] sites is shrinking and technology is allowing us to increase the amount of waste that can be recycled and reused. The cost of getting waste composted is far less than sending it to landfill.
Matshepo Molala, Randwick Council's Waste and Sustainability Education  Officer, in an article for The Sydney Morning Herald shared her insights from the Organics Waste program she is driving in Randwick.
Recycling can be [particularly] challenging for time-poor people living in units and apartments, and the pilot scheme aims to provide them with everything they need to recycle food scraps hygienically"
The organic waste program is part of a very successful sustainability education program, through which Matshepo and the team have established several communities gardens, which have become 'community hubs'. The council has also established a permaculture interpretive garden which is "a really great space" particularly popular with student visitors, through which the community learns about what they can do to conserve energy and live more sustainably.
The Randwick Organics Food Waste Pilot has achieved significant success, driven by this strong community engagement, and passionate team.  The following article published by the Daily Telegraph , highlights both this success and the changing community attitudes and behaviours.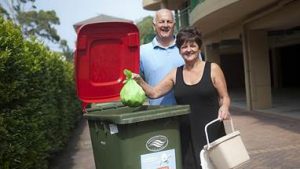 COOGEE residents Judy and Bill Ashcroft are doing their part to reduce food waste landfill by recycling their compostable food scraps.
The pair are taking part in Randwick Council's kitchen food scraps trial, which will run until early next year. Participants in the trial were given a kitchen caddy and compostable bin liners to collect their good scraps, which are then collected by council workers each week for recycling.
Mrs Ashcroft hoped the trial would be expanded to more households. "I'm delighted that Randwick Council is taking this initiative," she said. More than 600 households in 110 apartment blocks are participating in the trial food recycling scheme. Randwick Mayor Scott Nash said the council was committed to creating a sustainable environment. Randwick Mayor Scott Nash: "Food scraps make up 40 per cent of our general household garbage, most of which ends up in landfill."
COMPOST REVOLUTION
Last year Randwick joined Waverley and Woollahra councils to launch a home composting project.

Lauren Michener from Waverley Council said the Eastern Suburbs of Sydney, Australia was a densely populated urba
n area where around 40 per cent of domestic waste comprises food waste. Randwick and Waverley councils received funding from the NSW Environmental Trust to trial an innovative community composting project.
Results from the year-long trial involving 580 households proved that compared to conventional waste management methods, this approach had some very significant benefits. People's behaviour changed, almost 98 per cent of participants reduced the food waste they made, over half started to grow more food, and three quarters talked to their neighbours or friends about composting.