Source Separation Systems is taking on more customised work as a market shift in the Australian recycling industry has seen more commercial enterprises embrace change. 
The recycling industry is in a period of unprecedented change.
These changes have been driven by a number of factors, not least state and territory bans on single-use plastic bags, China's change to import laws and the subsequent increasing cost of collection. 
Many businesses are choosing to see this change as a trigger for innovation, and, as a result, are pushing new boundaries in waste diversion by revolutionising their own waste management practices. 
 These are the sentiments of Source Separation Systems, a company specialising in the development of waste and recycling infrastructure. Having worked with an increasing number of high-profile clients, Source Separation Systems is at the forefront of these changes.
Source Separation Systems' Peter Cruwys says the company has over the years moved towards more customised work. 
"We are finding that clients have now proved the benefits of our best practice systems, and are contacting us to expand their programs to not only new sites, but more often to new unique waste streams which reflect their business," Peter explains.
"Commercial clients are increasingly conscious of the complexity of recycling and are seeking expert advice that they can trust to provide an effective solution." 
RISING DEMAND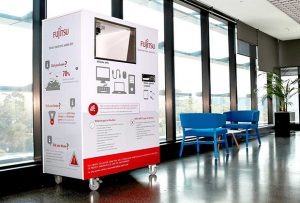 The demand for customised solutions is so high that Source Separation Systems has already outgrown its current facility after only three years, and is purpose-building a new expanding facility in Newcastle. This will further increase its onsite manufacturing capabilities. "It seems most custom projects are initiated by clients who want to go beyond internal recycling and move towards more sustainable waste management in their manufacturing processes," Peter says.
"They are also importantly more active in the responsible disposal of their own products at their end of life." 
Peter says Fujitsu is a great example of this, providing a unique service to its corporate clients through the installation of smart bins fitted with sensors to monitor fill levels, geo-location, temperature and tilt angle. He adds that the company is providing a complete managed solution for their corporate clients.   
Peter says the same principles apply to many other major industries such as eyewear collection programs for optometrists, in addition to the transition to Compost-A-Pak® Australian certified compostable packaging for organic stores. 
INSPIRING SOCIAL CHANGE
However, Source Separation System programs are not limited to developing an industry's products, as they can inspire a range of social changes. Peter cites a recent project for one of the world's leading social media organisations involving collection units. The units encourage the company's team to bring in items such as clothing, which is then donated to charity. 
 Recently, the Source Separation Systems team has also worked with one of the leading diversified Australian property groups, developing a specialised Coffee Cup Separation Station designed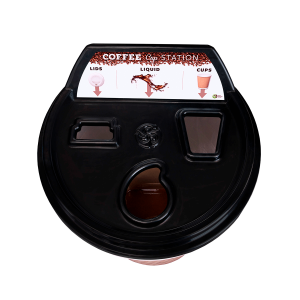 to create awareness on the scourge of takeaway coffee cups. 
"These units were specifically designed as a dedicated collection system encouraging staff, visitors and contractors within each of the facilities to divert the takeaway coffee cups from the misconceived recycling collection streams, which are a cause of contamination," Peter says. 
He notes that a dedicated collection system provides a cleaner recycling stream, while creating an educational medium for each site. He says that by building on such programs, other clients are using these same collection units with customised graphics for their own programs. These programs further the collection of provided reusable cups, which are washed onsite and returned to the inhouse cafes for further distribution.  
Using its expert industrial and graphic design capability, with specialists in sheet metal and joinery, such systems are completely customised to the client's requirements. 
INFRASTRUCTURE FIT OUTS
The Source Separation Systems team also does a lot of work on new infrastructure developments. Peter says that although most new fit outs include predesigned internal waste and recycling systems, often built into the décor, they are not always designed with best practice recycling features and prove ineffective. As such, Source Separation Systems works with clients to assess the current systems and design, build and retrofit a solution that converts the current infrastructure into best practice recycling solutions.
 "We've done a lot of work for larger corporations where they've had an interior designer and architect spend $6 million on a fit out and they expect their recycling systems to work," Peter says.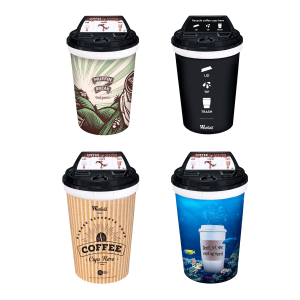 "If not well designed, they simply don't work, and so we work to design and often retrofit a custom solution, which ensures that the aesthetics are maintained, while recycling is made easy for staff, who often want to do the right thing." 
For this reason, Peter says it pays to ensure you talk to recycling experts early so that recycling systems work. After having worked for years with various consultants, waste collection facilities, interior designers and architects to understand how bins can be adapted to fit into a specific space, Peter says that despite aesthetics playing a significant role, the most important consideration is ensuring your infrastructure aligns with Australian best practice recycling systems. 
"Often when you bring such groups together onsite, there is an interesting dynamic as many people have a perception that fabulous aesthetics and best practice recycling features such as colour coding and customised apertures can't be achieved in the same unit," Peter says.
"One of my favourite parts of customised projects is surprising the designers, with either well-designed or integrated solutions."