August 20, 2015
Compostable vs Degradable… What's in a Name?

While many still consider the terms 'compostable', 'degradable' and biodegradable' to be, for all intents,  interchangeable (or even a matter of naming semantics), nothing could be further from the truth – especially when it comes to selecting an appropriate bag for kitchen organics or other green/organic waste streams.
Plastic bags remain one of Australia's key environmental risk. Industry estimates place the quantity of plastic bags being disposed of in the nation's landfill at over 36,700 tonnes each year – and that doesn't include those which are littered. Alarmingly these plastic bags can take up to 1,000 years to break down.
In recent years, the wide-spread focus on reducing the use and disposal of traditional plastic bags throughout Australia has resulted in the introduction of an extensive range of alternatives, including compostable, degradable, biodegradable, recycled, recyclable and reusable bags. And although some would argue that any alternative is preferable to using traditional non-degradable plastic bags, when it comes to organics waste processing, it's clear that not all of these 'eco-friendly' alternatives are created equal.
Peter Cruwys, Director with Source Separation Systems, explains:
"Despite the major shift towards organics processing as a key method of reducing the amount of waste being sent to landfill, there is still significant confusion about the difference between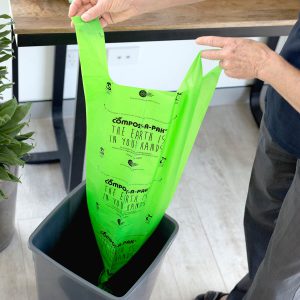 'Compostable', and 'Bio-degradable' bags and liners."
"While this may seem little more than a matter of naming semantics, using the wrong type of bag or liner can contaminate the entire organics processing stream and render the processed products unsuitable for use in many applications," he said.
The key difference between 'compostable' and 'degradable' bags and liners lies within the materials used to manufacture them.
In general, 'degradable' bags and liners are still made from plastic: the main difference between these and 'traditional' plastic bags is that they use a modified polymer which has been designed to break the molecule into small fragments over time (usually as a result of exposure to UV). Unfortunately, the result of this process is a larger number of smaller pieces of plastic. Alarmingly these types of small pieces of plastic are a major component of the Pacific 'Plastic Islands'. Increasingly known as the 'micro plastics problem', they are also now showing up in the flesh of ocean fish.
In terms of organics, considering that contamination in organics is measured by item count rather than by weight, such small plastics can spell disaster for an organics processing stream.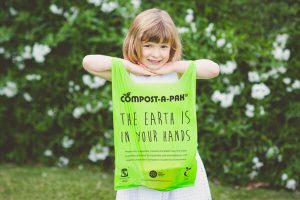 'Compostable' bags and liners are manufactured using plant-derived starch based polymers that break down completely – returning all nutrients to the soil without leaving any harmful residues.
"Put simply, when it comes to preparing the tenders for a new organics service, Councils need to specify 'AS4736 certified compostable' bags and liners – it's a critical factor in ensuring that the service can generate usable end products that comply with the Australian Standards," Peter Cruwys added.
We would love to know how  you reduce your plastic bag use. Leave a comment below!
Originally published in Waste + Water Management Australia July 14.