November 08, 2017
Compost-A-Pak® Landfill & Recycling Liners
Many of our customers are aiming to reduce their waste to Landfill, and after recyclables, and organics have been diverted, plastics are usually the most common contributor.
A powerful way to reduce this waste is to lead by example and review internal purchasing practices. Sustainable alternatives, or reusable options, are available for a range of items such as plastic cups, straws, single use plastic pens, plastic folders, and of course, the environmentally harmful plastic liners, which wrap it all!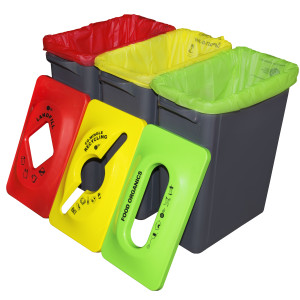 Compost-A-Pak® liners are well known as a completely plastic free, Australian Certified Compostable liners which is manufactured to our unique minimum UM standards, providing the durability needed for commercial organisation. After partnering with a number of customers and universities, who are aiming to minimise Landfill and go 'Plastic Free' we are excited to be now manufacturing our liners in the Australian Standard Waste colours for Recycling (yellow) & Landfill (Red) with differentiated print, in soy based compostable inks of course!
SO WHAT ARE THE BENEFITS OF COMPOST-A-PAK® COLOURED LINERS?
Eliminate plastics with a sustainable, convenient alternative. Compost-A-Pak® products are all made from waste corn.
Improve cleaners efficiency when collecting multiple waste streams: Compost-A-Pak® Coloured Waste Liners ensure cleaners can collect a range of waste streams concurrently, and then easily identify and separate waste at the main collection point, emptying precious recycling material into the larger units for collection. Once used for collection and transportation, the liners can then be composted.
Reduce contamination: The bright Australian Standard Waste Colours make it really easy to identify red Landfill from yellow Recycling, throughout the BOH collection and transportation processed, minimising contamination.
We choose corn, as it's an annually renewable resource, unlike trees which can take years to mature. Our corn is sourced from international GMO free regions with high levels of natural rainfall to minimise irrigation, and we deliberately select third grade corn. This corn is essentially spoilt corn, and is unsuitable for human or animal consumption. Using the natural polymer derived from corn, blown film bags are then manufactured on purpose built equipment, which is reengineered to minimise electricity consumption. Compost-A-Pak® liners are then printed with soy-based, non-toxic printing inks. Once used, Compost-A-Pak® liners are Australian Certified compostable, so they can be thrown out with your organic waste, and will breakdown completely in organic composting facilities with no harmful residue through compost, all the nutrients can be returned to enrich the environment.
Interested to know more about the story of Compost-A-Pak? Check out our website or join us online.