May 03, 2014
Community Gardens – Promoting Modern Sustainable Living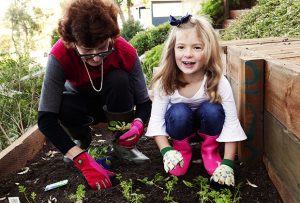 There has been significant growth in community gardens, both internationally, and in Australia particularly in the last 10 years. The benefits for participants in terms of social, health, cultural and economic benefits are well documented and understood. However increasingly, community gardens are delivering educational benefits which reach well beyond gardening knowledge and their direct members.
The motivations of many community gardeners seem quite simple. A survey of Canberra Organics Grower's Society (COGS) community gardeners highlighted that members initially got involved because they wanted to make their food supply more certain (50%) and were keen to save money (50%). When asked why they grew their own food, over 80% of respondents highlighted drivers are "simple enjoyment", "enjoy being outdoors", "better quality food" and "better tasting food". It seems individuals both enjoyed the produce itself, and the process of growing. However interestingly, 40% of those surveys also highlighted that they wanted to set an example to the broader community by growing, recycling, and composting.
This link between community gardening and wider sustainability issues were also highlighted in a recent report by ACT Government into the growing demand for community gardens in their state. The report found;
For some, community gardening is an active attempt to reduce their carbon footprint and a local, personal response to significant environmental issues such as climate change (and resulting concerns over food security)
Interestingly, this report also revealed that community gardeners tend to become more aware of sustainability issues through their involvement.
…many community gardeners in Canberra also indicated that their relationship with soil and composting have made them more attuned to ecological issues and this has manifested itself in more efficient watering practices, greater awareness of seasonality of fruits and vegetables and for more, a commitment to low-input production…. and consequently gaining an understanding of the implications of environmental concerns such as food miles…

An Australian study similarly identified the capability for community gardens to encourage members to develop a greater appreciation of sustainable living practices and engagement. This research notes:
When community gardens are considered to be inclusive community places this provides an opportunity for social and cultural interactions… (that) can form the basis of the evolution of sociocultural sustainability.
Tanya, a member of a local community garden in Coffs harbour we spoke to, similarly spoke of such an impact:
"When I initially got involved in the community garden, my motivation was simple, to grow my own food with my young family. Since getting involved, the very way we live has been affected as we have become more aware of our families environmental footprint. I am now guiltily conscious of issues such as food waste, food miles and packaging when I shop. My 6 year old has turned into an electricity and recycling boss, walking around the house turning off lights, and instantly lecturing anyone who dares to place an item in the wrong bin. We even package up our food waste and take it to the garden for composting."
Whilst informally community gardens do support and promote sustainable urban living practices, many gardens are now deliberately focusing on education as a key outcome. School gardens are an obvious example of the educational model. As my six year old niece, and avid community gardener at school can attest. "It's great. You can pick stuff from there and bring it home to eat for dinner. I've learnt they grow by giving them water and sun and love. It takes a year". At the very fundamental level, it's a great lesson in needing to give to the environment in order to take back.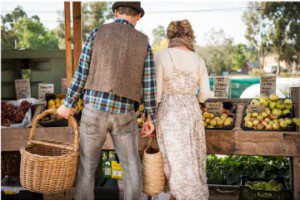 At the other end of the scale, CERES (Centre for Education and Research in Environmental Strategies) in Melbourne is described as Australia's largest deliverer of environmental education. Built on a decommissioned rubbish tip that was once a bluestone quarry, today CERES is a vibrant eco-oasis, a thriving community, and urban farm located on 4 hectares in East Brunswick, Melbourne. 350,000 people visit CERES each year, with many more engaged through their Sustainable Schools program.
More recently in Randwick, the local council have invested to develop the innovative Permaculture Interpretive Garden (PIG), as part of the new Sustainability Hub. Explained in the team's Reduce Your Footprint blog this venue is an experiment in a new type of public open space.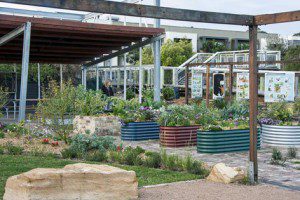 It combines Public Park, with educational facility. The raised gardens beds, that currently have salad rocket going to seed spilling from them, will be used as a learning facility by participants in Randwick Council's Organic Gardening course and for peer-to-peer learning by people who have completed the course and wish to learn more as Council volunteers.
But the PIG is more than just a vege garden. Designed and installed by Steve Batley's Sydney Organic Gardens, there's an orchard in the process of being planted out, a shelter designed to illustrate a common pattern in nature called the Fibonacci Series, almond trees, espaliered fruit trees to be planted soon, a compost demonstration system and a balcony garden illustrating what visitors can do on their apartment balcony or courtyard. Such a design mirrors the intent of the rest of the sustainability hub as a real demonstration of urban living with sustainable use of water, energy and food.
From the small school garden brimming with both fresh veges and enthusiastic kids, to the local community gardens and major council education sites, community gardening can play an important role in helping to build our urban communities awareness of sustainability living practice.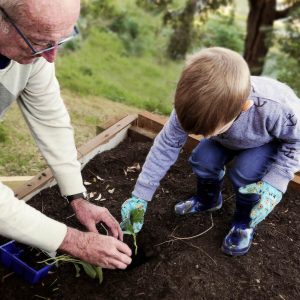 In closing, some wise words from our 6 year old community gardener;
"And the most fun thing in the garden is skipping around in circles, because there are little square steps in the garden" 
I'm sure many of us in the frantically busy modern, urban communities in which we live would indeed benefit from taking the time to skip in circles around the nearest garden!
Interested in more information? Visit the links below.
Australian City Farms and Community Gardens Network. – http://communitygarden.org.au/
Stephanie Alexander Kitchen Garden Foundation, a NFP with a vision that pleasurable food education is accessible to every Australian school with a primary curriculum.  . https://www.kitchengardenfoundation.org.au/
Faith Thomas (2008). Getting started in community gardening. City of Sydney:   Click here
ACT Government Study of community gardens – Click Here