March 13, 2022
Behind the Scenes at Source Separation Systems' Sustainable Warehouse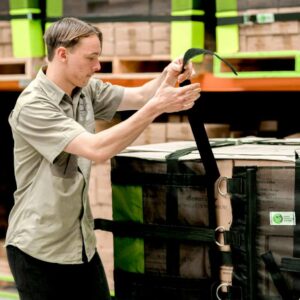 This article was originally published in Waste Management Review. 
It's always an interesting exercise to peek inside a business and see how things are really done. Source Separation Systems is well known for industry-leading sustainability products, and behind its green warehouse roller doors, the focus and prioritisation of waste management is inspiring. As Managing Director Peter Cruwys explains.
"We are really focused on setting an example about how great systems and infrastructure can support optimised recycling, after all it's our team's core business. As such we have invested in some innovative systems, which both cut down on our waste, optimise recycling and importantly, support the circular economy. Cutting down on waste is really important, as is recycling, however as a business, I believe we also need to play a role in ensuring there is commercially viable demand for recyclables, so that the Australian circular economy can thrive. That's where the success of recycling can be truly realised!"
The team uses Source Separation Systems' MultiSort systems across both the warehouse and office to separate individual waste streams, with additional systems such as Battery Recycling Tubes in the office. While confidential paper goes into a MultiSort Confidential bin, any other A4 pages are consolidated and made into note pads, which are used to collect measurements and take notes in the warehouse.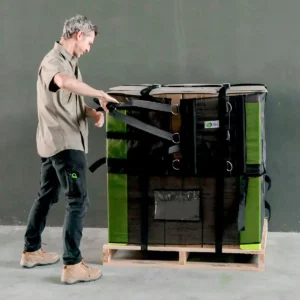 One of the team's key focuses is minimising single-use plastics. Smaller orders are dispatched in Compost-A-Pak® Postal Satchels, which are Australian Certified Compostable. However, as Indy Haydon, Warehouse Manager explains, the single-use plastic free program goes beyond that.
"The most significant impact we have had is in the shift away from plastic pallet wrapping. When we store our stock on pallets, we wrap the products with reusable pallet corners and a unique pallet strap and curtain system, which we have specifically designed for us. This eliminates the need for single-use plastics," Indy says.
The Reusable Pallet Wrap Kit has been so effective Source Separation Systems is now offering the solution to customers. The system is a simple one. The Source Separation Systems team packs orders as usual, and then wrap the pallets with plastic-free kits, which includes stability corners, straps, and a curtain wrap. Once the pallets arrive with the customers the reusable kits can be purchased and kept, or the customer simply packs the kits in a provided carton, and the team organises for it to be returned. The kits are then reused.
"I'm excited that it's proved so popular. In fact, one of our government customers who made the switch to our plastic free delivery option in November 2021, has saved about 10.3 kilometres of plastic pallet wrap and over 250 square metres of pallet caps in the past four months. That's enough plastic wrap to walk down both sides of St Kilda Road in Melbourne! It's amazing the difference a simple change can make," Indy says.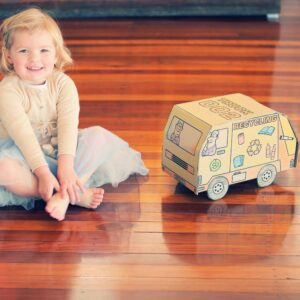 Another clever initiative is packaging cartons which are not only made of post-consumer recycled content, and recyclable, but are upcyclable.
"The cartons for our key products are really innovative. After being used to protect our goods during transportation, they are designed to be upcycled by kids into three-dimensional trucks and even a cubby house barn," Indy says. "It's a fun initiative in which kids can be emersed in thinking about, and so learning about, sustainability. After this additional life for our cartons, they can then be recycled."
The Source Separation Systems Circular Economy Program started as an in-house program to recycle broken products. The team was storing consistent plastics such as HDPE and sending a bulk collection to be granulated so it could be commercially reused. The team has extensive experience in this recycling space, currently manufacturing several products such as the Kitchen Caddy and MultiSort bases in up to 100 per cent Post-Consumer Recycled content.
The recycling program is now open to all customers. If recycling facilities are not available locally for any of their products, Source Separation Systems encourages customers to send their old products back and they will ensure they are recycled – from plastics to steel units. To ensure transparency, specific information about the recycling process for every product is included on their website, and so available at the time of purchase.
Overall, Source Separation Systems' sustainability program is delivering business benefits both internally and in the way they can support their customers' sustainability goals.
"Sustainability has always been a core value for our team, and so it really guides the way we engage, design, and operate. I'm really pleased that so many of our internal processes have been expanded so they also support our customers' success," Peter says.