November 08, 2017
Are You Good to FOGO?

We are excited to read the following article about another successful FOGO program, which features educational material presented to the user every time they divert food waste, courtesy of our innovative Kitchen Caddy's inmould label. Congratulations to the Shellharbour City Council Team!
This article was published by Waste Management Review. To read other similar articles just click on this link – http://wastemanagementreview.com.au
ARE YOU GOOD TO FOGO?
October 20, 2017 by Waste Management Review
Food and garden organics collection is proving to be a cost-effective way for councils to reduce the amount of waste to landfill, but why have so many been slow to the punch?
Influencing a community of just under 70,000 to change their behaviours was never going to be easy, but one council found the solution in a simple, yet effective catchphrase.
ARE YOU GOOD TO GO FOGO?

FOGO, which stands for food and garden organics collection services, involves councils taking those waste streams and introducing a composting operation to turn them into a nutrient-rich product. When done so safely, some local government bodies believe FOGO has significant potential to reduce the amount of food and organic waste going to landfill.
It almost took 10 years for the New South Wales' coastal community of Shellharbour to introduce FOGO, and the council is finally reaping the rewards. The journey began with an initial survey in 2007 and concluded late last year. Thanks to a grassroots campaign, Shellharbour now operates a weekly FOGO service.
For Shellharbour City Council, the process of introducing a FOGO service required input from industry experts and councils across the nation, in order to successfully instil behavioural change. As recycling requires residents to change their habits, Sue Fletcher, Technical Officer Waste Management, explains that repetition through the catchy term FOGO had a positive effect on influencing change, as it became entrenched in the vocabulary of community members.
While the collection of garden organics is more commonplace in councils across Australia, Shellharbour saw potential for FOGO to significantly reduce waste to landfill, working hard to change community behaviours.
To achieve this, it conducted extensive surveys, free courses, television and radio advertisements, door knocks and barbecues, all with the goal of helping residents understand the benefits. They spoke to behavioural experts, industry experts and other councils from across the nation, implementing a strategic plan. The plan involved getting residents to voluntarily downsize their 240L to 140L residual waste bin and separating their food and organic waste into separate bins to prevent contamination.
The success story led to Shellharbour collecting more than 9000 tonnes of FOGO material at the kerbside between its launch in July 2016 and March 2017, an increase of more than 2200 tonnes compared to the same time last year. Its waste to landfill has already reduced by an additional 1616 tonnes, compared to the same time last year. The council has even managed to handle this alongside the municipality's population growth, with waste to landfill continuing on a downward trend despite the increase in generation. So what's stopping the rest of the nation from achieving a similar result?
HOW COMMON IS FOGO?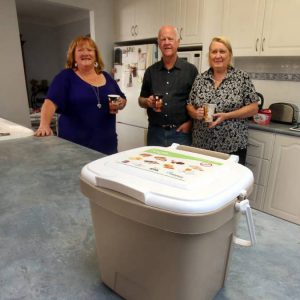 While Shellharbour's hard work shows that FOGO can be economically feasible and environmentally sound, the question remains how prevalent the service is. Data compiled by the Australian Government Department of the Environment and Energy (National Waste Reporting 2013) indicates that around 14 million tonnes (Mt) of organic waste was generated nationally in 2010–11, with 47 per cent of this disposed to landfill, 44 per cent recycled and 9 per cent used in energy recovery.
In Victoria for example, a spokesperson for statutory authority Sustainability Victoria says 13 out of 79 of Victoria's councils provide a FOGO service to households. Of this figure, 53 provide some form of organics collection service to residents.
"There is definitely potential for an organics service to be expanded to the remaining councils," the spokesperson says.
JustWaste Consulting director, Justin Jones, believes the slow progress of FOGO is due to the challenges of obtaining approval from the state's environmental protection agencies (EPAs), which are concerned with the stigma surrounding noxious odours emitted by a food composting service. Another challenge also falls with councils, as they are tasked with getting their residents to change their waste disposal habits. The third issue relates to scalability, as the cost of setting up a composting service may outweigh the benefits depending on the population and type of operation.
According to the Federal Government Department of Sustainability, Environment, Water, Population and Communities Food and Garden Organics Best Practice Manual, collecting source separated food and garden organics can help councils alleviate the costs of landfill disposal by avoiding levies, reducing the costs of public park and gardens (through composting) and assist the climate by preventing anaerobic decomposition in landfill.
HOW TO FOGO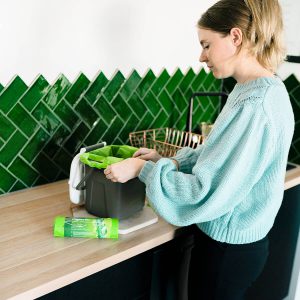 A factsheet based on the former Federal Government's Food and Garden Organics Best Practice Collection Manual (2012) indicates there are various technologies used in a composting service, including; windrowing, aerated static pile, in-vessel composting and fully enclosed composting.
Open windrow composting is defined in the document as a low-cost option that is used in the majority of organics processing facilities in Australia and the world. Open windrow composting involves placing organic matter or biodegradable waste in long rows known as windrows. The windrows are turned regularly, either with front end loaders or dedicated windrow turners, screening for contamination which allows the organic matter to decompose.
Aerated static pile is a more expensive version of composting and involves mixing organic residues in one large pile, instead of rows. Piles are placed over a network of pipes that deliver air into, or draw out of, the pile, aerating the material to supply it with oxygen to grow and remove moisture and heat. This is known as forced aeration. Aerated static pile generally requires blowers, pipes and sensors to control the supply of air.
Forced aeration is also used in in-vessel composting, which involves feeding organic materials into a drum, silo, tunnel, box or similar container. The intensive composting process takes place in controlled environmental conditions, regulating the temperature, moisture and aeration. Materials are premixed before being loaded into a vessel, where they sit for about one to three weeks before further composting and placement in static piles or aerated windrows.
Sue says as a result of the environmental impact statement and consultation with relevant agency bodies, Shellharbour used in-vessel composting due to the location of the facility to the surrounding receptors.
HOW FEASIBLE IS FOGO FOR COUNCILS?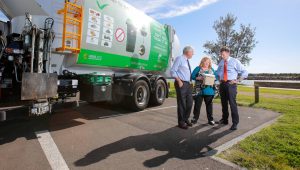 While Shellharbour's experience has been successful, others have noted the potential for FOGO to reduce the national footprint of waste going to landfill.
JustWaste director Justin Jones says he sees huge potential for FOGO, particularly smaller operations. This is due to the ease of obtaining approval from the EPA for composting, as a key distance from municipal areas means less of an odour risk, while also being more financially viable due to their smaller scale.
"In metropolitan areas such as Melbourne, you're dealing with larger volumes as well as the perception of odour issues. Victoria has stringent guidelines in regards to how you can compost FOGO, so that could be the reason why they've been slow to embrace change."
Justin says operators in NSW utilise many differing technology and processes for the treatment of organics, especially FOGO. He says that as more sites become available to accept organics, more councils will make the switch. He says the perception that FOGO is a high-risk odour issue can be overcome by proper process control, technology choice and the fact that the food component is so low.
JustWaste conducted a study into a small-scale composting facility for Coolamon Shire Council in the Riverina region of NSW. The 2017 assessment found the construction of a small-scale windrow composting area could be put together at a low cost and quick turnaround, particularly when attached to an existing landfill.
He estimates that open windrowing can cost up to $50,000, while forced aeration systems cost around $150,000 and an in-vessel system could cost anywhere between $500,000 to $1 million. Justin notes that the cost and benefits depend largely on the scalability of the project.
Coolamon Shire Council has seen significant cost savings from the process. Colby Farmer, Executive Manager of Development and Environmental Services, says the council uses open windrow composting to produce a compost used in the municipality's parks and gardens. Colby says councils across Australia could develop a business case for selling the compost back on to consumers.